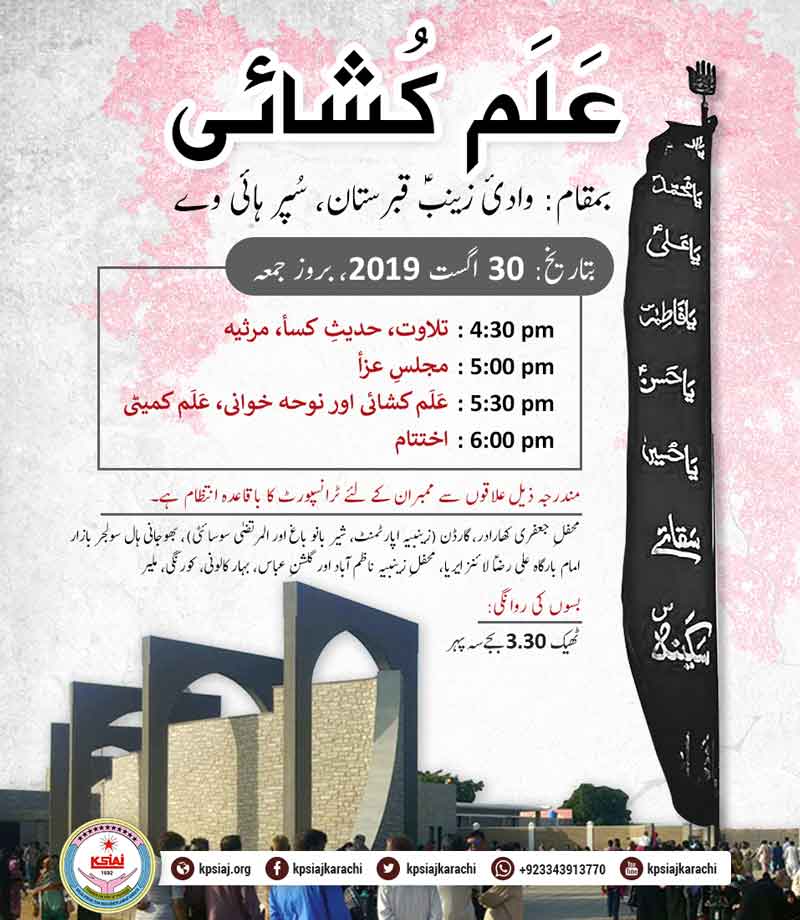 Event details
August 30, 2019
4:30 pm
Wadi-e-Zainab (sa) graveyard (Super Highway)
Khoja (Pirhai) Shia Isna Asheri Jamaat has organized Alam Kushai program at Wadi-e-Zainab (sa) graveyard (Super Highway) on 30th August 2019. Momineen & Mominat are requested to attend.
Program details:
4:30 pm: Tilawat, Hadees-e-Kissa & Marsiya
5:00 pm: Majlis-e-Aza
5:30 pm: Alam Kushai & Noha Khawani (Alam Committee)
Program ends at 6 pm
To facilitate members, arrangement of buses for ladies & gents from following points:
Mehfil e Jafery Kharadar
Garden (Zainabia Apartment, Sherbano Bagh & Al-Murtaza Society)
Bhojani Hall Soldier Bazaar
Imambargah Ali Raza Lines Area
Mehfil Zanabia Nazimabad & Gulshan e Abbas
Bihar Colony
Korangi &
Malir
Please Note: Buses from all above areas will leave at 3:30 pm.