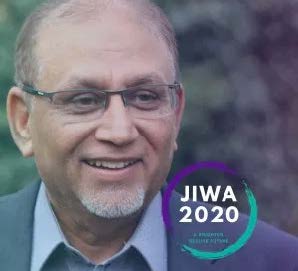 Dr. Husein Jiwa was born in Moshi, Tanzania to his parents Abdullah Jeraj Jiwa and Zehra bai Sharif Jiwa. His family moved to Pakistan in the late 60s. Dr. Jiwa moved to Peterborough, UK, in 1985, with his wife and two boys and his now a grandfather of three grandchildren. Dr. Jiwa is qualified as a doctor with MBBS from Liaqat Medical College, Hyderabad, Pakistan in 1980. In 1992 he undertook specialist training and graduated with a diploma in Osteopathy and Naturopathy from the British College of Naturopathy & Osteopathy.
Dr. Jiwa is currently an elected Councillor for Council of European Jamaats (CoEJ) and for the World Federation. He served at CoEJ for two terms as a President between 2009 – 2015. He also served in the organisation as Vice President for two terms (6yrs) between 2003 – 2009 and another term between 2015 -2018.
Since moving to Peterborough, he has been involved in various voluntary roles within the community, with special interest in youth and elderly related activities. He has served as the Sports Chairman for Peterborough Jamaat for many years, during which time he coordinated several youth activities and excursions. He also served as a Youth Coordinator and Committee Member of the Peterborough Jamaat till 1996. Dr. Jiwa joined CoEJ in 1996 in the capacity of Councillor and moved to become the Chairman of the council of European Jamaats (CoEJ) Medical Board. Under the CoEJ Health Improvement Board he was actively involved in establishing the annual health screening events within the UK and European Jamaats as well as delivering various health related lectures and awareness programmes to the seniors' group locally and nationally.
He performed his first Hajj in 1995 and have since been part of the European Hajj Mission (EHM) Medical Team as one of the doctors. He has been intimately involved with the development and promotion of the Sweden boys Camp and the Mulla Asghar Memorial Tournament (MAMT), both of which have been flagship projects of CoEJ. He has worked closely with women in the Mulla Asghar Memorial Tournament (MAMT) to promote and empower their leadership by creating a structure whereby women took ownership to manage their affairs and be part of the MAMT management team.
In his term as a President of CoEJ I empowered women to be part of the CoEJ executive team by ensuring they have elected or nominated seats in the COEJ executive team. He has worked closely and seamlessly with various jamaats across Europe and supported their local projects which has enabled good partnership working and enhanced togetherness and unity.
As a CoEJ Vice President during 2006 – 2009, CoEJ federated with the World Federation. This was one of the key achievements for CoEJ and the World Federation during that period. In his term as a CoEJ president, he addressed the challenge of disunity the community faced around moonsighting in particularly during the Eid celebration. Through his leadership meeting with the grand Ayatullah Sistani and through his guidance the CoEJ Hilal Committee has the mandate to liaise with the Najaf office and announce a single date for Eid for the followers of Ayatullah Sistani across Europe, successfully resolving the issue. During his term CoEJ embarked on economic self-sufficiency through investment planning. This has been a remarkable achievement for CoEJ in regards to self-sustainability.