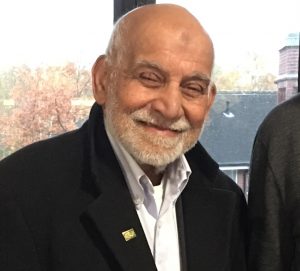 Publisher and Designer Born on November, 1939 in Madagascar. Started business in Lindi, Tanzania – Signs Writers Ltd. (Signage, Design and Fine Art). Settled in New York in 1969.
Founder and President of Tahrike Tarsile Qur'an, Inc.
Founder of Signs & Lucite Products & Plaques by Azra
Community affiliations:
Founding Member of the World Federation
Member of the World Federation Executive Council (First Term)
Founding Member of Al-Khoei Foundation, New York
Founding Member of Nasimco
Founding Member of the Boy Scouts of America's National Islamic Committee on Scouting and Chairperson of the Islamic Emblem
Member of the New York Host Lions Club
Former and First President of the Shia Ithna Asheri Jamaat of New York
Former President of New York Asian-American Lions Club
I would like to be the President of the WF because I think my extensive experience working with Muslims and people of other faiths across the world has given me a unique insight into the real challenges that communities like ours face. My biggest goal is to build bridge between our community and people of other faiths using the Qur'an, as the Qur'an is a best source of information to unite and guide us as a community.
I see my greatest accomplishment as my ongoing effort to reach out to the world in order to educate people about the Islam through the gift given to us by Allah swt – The Qur'an. I founded Tahrike Tarsile Qur'an, Inc., a non-profit organization which publishes and distributes Qur'an and Islamic Literature, over 30 years ago. To date we have published The Qur'an in more than 40 different editions of The Qur'an and over 50 other Islamic titles and children's books. We have distributed over 2 million copies of the Qur'an to bookstores, universities, Islamic centers, prisons, healthcare facilities, Seminaries, government officials and agencies across the globe.
On behalf of TTQ, I attend literary and religious meetings all over the world where I exhibit Qur'ans and Islamic Literature, most of the time we are only one of two or three organizations amongst hundreds representing Islam. These events include but are not limited to Book Expo America, Book Expo Canada, Boy Scouts of America Jamboree, The London Book Fair, American Academy of Religion, Middle Eastern Studies Association, Frankfurt Book Fair, New Delhi International Book Fair, Tehran International Book Fair, Sharjah Book Fair, etc.